Great Google reviews can work wonders for your business. Not only do they increase brand visibility and awareness, they also boost your business listing and search ranking. Plus, customers these days trust reviews, and positive reviews can drive more sales and conversions.
But how do you even get reviews in the first place? Who's going to take the time to leave a review for your business when there are thousands of other businesses out there? Well, here's the thing. You can get more five-star review by providing a positive customer experience from start to finish. Plus, you can use some strategic tactics in your review generation to help you get the reviews you need.
That's why we've put together this blog post about 5 Star Google Review Examples: How to Get More Positive Reviews. In this post, we'll discuss the importance of reviews, offer tips on how to get more five-star reviews, and look at five examples of businesses that have mastered the art of getting five-star reviews on Google. So if you're looking for strategies to get more reviews and drive more business, then you're in the right place! Let's get started!
Quick Breakdown
Many customers review products and services using a 5-star rating system on Google. Some example reviews may include descriptions such as: "great customer service", "fast delivery", and "friendly staff".
What Makes a 5-Star Review?
When deciding how to rate a product or service, shoppers are often faced with the difficult decision of rating it as either 5-star, 4-star, 3-star, 2-star, or 1-star. But what makes a 5-star review so special? To many, a five-star review indicates that they have found something particularly special and is often seen as an endorsement from one customer to another.
5-star reviews typically come from buyers who had no issues whatsoever with their purchase and are satisfied with the product or service. They will describe the item in detail, providing helpful advice about its features and functions. On the flip side, lower rated reviews may include complaints or issues encountered during or after purchase.
There is also the notion that one's perception of a good experience can be biassed based on individual expectations. So it is important to note that when someone provides a 5-star rating for an item or service, they may not have any reservations about it or have simply not used it enough to form an opinion on whether it was the right choice.
Ultimately, when trying to decide if one should give something a five-star rating or not, they must take into consideration all aspects of their experience with it – including product quality, customer service issues (if any), and overall value. Taking these factors into account should help shoppers arrive at an informed decision and ensure they're leaving an accurate representation of their experience – properly balanced between positives and negatives.
When writing a review, customers should aim to provide both detailed insight into why they prefer (or don't prefer) something, while remaining constructive and objective. This way, readers not only get facts but also context about the reviewer's feelings about their product or service of choice – giving them the complete picture when assessing their purchases. With this in mind, let's now move onto considering what other factors contribute towards writing a high-quality 5-star review.
Factors for Rating a 5-Star Review
In order to ensure a 5-star review, it's important to recognise the various factors that go into such ratings. First and foremost, customer service should be top notch; customers should feel that their needs are met and attended to in an efficient and timely manner. Additionally, professionalism is key – customers should be treated with respect regardless of whether their comments or requests are considered reasonable or not.
Other factors may include product quality, delivery time, website navigation, and even convenience and intuitiveness when paying for products. All these attributes make up the average customer's experience, increasing the likelihood that customers will leave 5-star reviews. Customers often have very different expectations from one another so it's essential to make sure these expectations are met in order to receive nothing less than five stars.
It also goes without saying that good reviews can come from customers outside of your usual demographic as well. If you provide a truly stellar service, word will spread and more people will begin giving your business 5-star ratings regardless of how they initially encountered your product offerings.
The takeaway is clear: the ingredients for receiving a 5-star rating vary depending on the customer but careful attention must be paid to each aspect of the customer experience. This can certainly sound daunting, but by properly adhering to basic principles such as mutual respect, honest dialogue, and addressing customer needs with precision and efficiency, you can ensure incoming ratings remain positive across the board.
Having acknowledged the crucial elements for achieving a 5-star review, it's time to look at some examples of what excellent customer service looks like today – something we'll explore further in the next section.
Examples of 5-Star Reviews
When it comes to 5-star reviews, there are countless examples of what makes an outstanding review. These reviews often have a combination of factors that make them stand out. For instance, a 5-star review may include the customer's positive experience with a product or service, details regarding the product's impact on the customer's life, and an overall appreciation for the business overall. Additionally, some 5-star reviews contain very specific details such as how long it took to receive their package or helpful tidbits about a particular product feature. On the other hand, there are also some good 5-star reviews that are more succinct in nature and might just state that they were beyond satisfied with their experience. Debate around which type of review provides more value is ongoing, yet both may serve different purposes depending on the situation.
No matter what route you take when writing your 5-star review, it's important to keep in mind that great reviews focus on the facts and share a story about their unique experience. By providing new customers with authentic feedback from other customers, allowing them to better visualizemore clearly how their experience may be. Nonetheless, whether you provide detailed information or more general remarks, readers should still be able to get an understanding of why they should trust the business and its products or services based on your review.
Overall, these 5-star reviews can have a tremendous impact on consumer decisions and should be well thought out when written as it will likely provide potential customers with a good sense of what to expect if they choose to do business with them. The next step will be helping businesses leverage this power by ensuring they have all of the necessary tools in place to create engaging and compelling reviews for potential customers.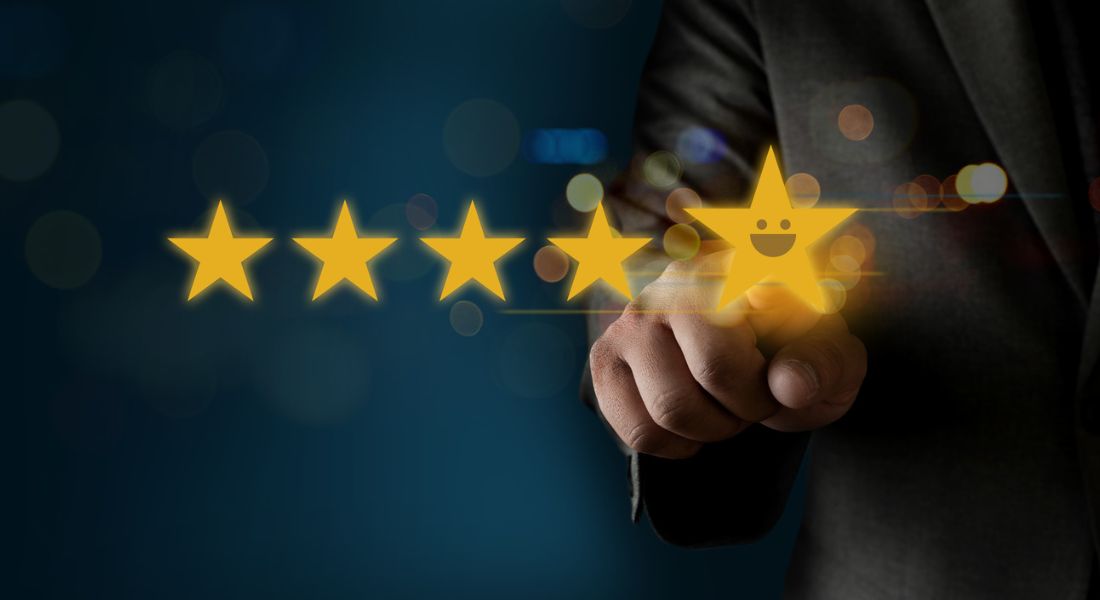 How to Write an Excellent 5-Star Review
Now that we reviewed some 5-star review examples, let's dive into what makes an excellent one. Writing a 5-star review takes more than simply mentioning that you liked something—you have to be specific and provide details on why it earned that rating. It's also important to understand that writing a 5-star review requires getting out of your comfort zone and exploring different areas, so don't be afraid to try something new.
When crafting your review, think about the various components of the experience you had—were the service and customer support good? Was the product easy to use? Was the quality up to par? Were the aesthetics pleasing? These are all factors you should take into consideration when writing a review, and providing concrete details on each one is necessary in order to hit the full five stars. You can even go above and beyond by comparing it those similar products or services offered by other companies.
When done correctly, taking these steps can produce an outstanding five-star review. As long as it is honest and detailed, potential customers will be able to get a better idea of what kind of experience they could expect from this company by reading your review.
Ultimately, there is no one-size-fits-all approach when it comes to writing reviews, but as long as you are thorough and include enough detail in each section, you should have no problem crafting an excellent 5-star review. To make sure you've thought of everything needed for a glowing report, let's move onto outlining the components of a positive review.
The Components of a Positive Review
When writing a 5-star review, there are certain components that should be included in order to make the review stand out to potential customers. Including these elements will ensure the reader is able to get a full picture of the quality and value of the business.
One essential component of a 5-star review is listing specific features or benefits that you have enjoyed from your experience with the business. Identifying what makes them unique and why you would recommend them can help influence others as well as give the business some idea of what their customers appreciate about them. Additionally, highlighting particular employees who provided great customer service or went above and beyond can help to give the reader a better understanding of the atmosphere and level of care at a business.
Additionally, providing an honest explanation about why you chose to rate their services highly is also important. Reviews which contain detailed descriptions often provide tangible evidence that proves how satisfied you are with a product or service, which is more powerful than simply stating "I liked it" without elaboration. Furthermore, providing both pros and cons in your reviews can create an even more comprehensive review and demonstrate genuine objectivity while still rating the business highly. Although this is optional, offering constructive criticism along with praise may even result in changes that could benefit future customers.
Finally, transparency is key when it comes to writing meaningful reviews. Providing open communication between yourself and the business allows for greater feedback and renewed trust between both parties. For example, allowing readers to contact you directly to further discuss your review could be useful for those who want more information before making their decision.
In conclusion, there are many factors involved in writing a positive 5-star review that will capture the attention of potential customers and benefit businesses in various ways. Writing thoughtful descriptions and citing specific details will ensure that your reviews accurately portray each aspect of your experience with a company in order to give other consumers reliable information when considering using their services.
Answers to Frequently Asked Questions with Detailed Explanations
What makes a Google review successful?
A successful Google review is one that provides meaningful feedback for potential customers. It should be informative, honest, and specific about the product or service being reviewed. Additionally, customers appreciate reviews that are detailed and offer helpful insights into a business's offerings. A well-crafted review should be free of typos, grammatical errors, and emotional criticisms. Reviews should also remain respectful and appropriate to maintain a professional image for the business in question. Finally, a successful Google review strikes a balance between praising the positives while honestly describing any areas of improvement.
What are the benefits of writing a Google review?
Writing a Google review provides several benefits. Firstly, it gives potential customers an idea of what to expect from the product or service they are considering. Knowing how previous customers felt about their experience can help them make an informed decision. Secondly, it builds trust in the company and its products or services, making customers more likely to buy from them in the future. Finally, writing reviews helps the business get more online exposure, as search engine algorithms take into account both the number and content of reviews when displaying results for related searches. All in all, writing a Google review is a great way for businesses to connect with both existing and potential customers and gain valuable insights about their products or services.
How can I write an effective Google review?
Writing an effective Google review is all about providing a comprehensive and honest assessment of your experience. Consider the following steps as you write your review:
1. Clearly state what product or service you are reviewing.
2. Describe the actual experience you had, being as specific as possible.
3. Include both the positive and negative aspects of your experience, if any.
4. Provide details, such as how helpful the staff was or how the product exceeded your expectations.
5. Be concise and to the point, summarising your thoughts in a few sentences if possible.
6. Avoid using offensive language or making personal attacks in your review.
7. Add pictures or other visuals to enhance your review, if applicable.
8. Double-check your spelling, grammar, and punctuation before submitting the review to ensure it's readable and accurate.
9. Finish on a positive note to leave a good overall impression on readers.